Hundreds of flights were canceled or delayed on Wednesday and thousands of people were stranded, according to reports, after an IT failure at Lufthansa Airlines.
More than 200 flights have been canceled at the German-based airline's hub in Frankfurt, Germany, according to Reuters. Frankfurt is also one of the largest airports in Europe.
"As of this morning, the Lufthansa Group airlines are affected by an IT outage associated with construction work in the Frankfurt area," the airline tweeted. "Unfortunately, this has resulted in flight delays and cancellations."
How should travelers prepare for winter flight delays?
The airline told passengers it was checking its operations to stay up to date with last minute changes in preparation for the aftermath of the strike scheduled for this Friday.
Lufthansa tweeted: "We understand the difficulties this situation creates and hope to be able to provide assistance as soon as possible."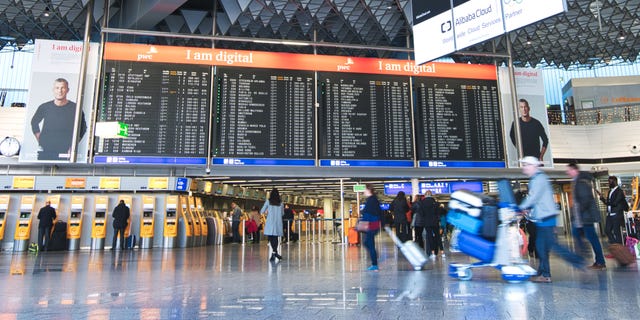 IT systems later announced that all systems were back up and running and operations were expected to return to normal by Thursday.
Polish bus bound for Belgium crashes on German highway, 35 injured
The airline reportedly blamed the debacle on engineering done by a third party on the rail extension on Tuesday night.
During the work, a drill allegedly cut a bundle of Deutsche Telekom's fiber optic cables.
As a result, Lufthansa's passenger check-in and boarding system crashed, and air traffic controllers were ordered to ground the inbound flight.
A song about hundreds of flights being canceled and over 100 being delayed.
CLICK HERE TO GET THE FOX NEWS APP
Frankfurt wasn't the only airport affected. In fact, Charles de Gaulle in Paris reported that two flights had been canceled and two others had been turned back.